Low Voltage Extra High Voltage Power Cable Accessories
Heat shrink tubing available in all colors thin wall, medium wall, dual wall and Heavy Wall and Wrap around sleeves/Zipshrink, in reels and 4 ft lengths. Silicone overhead line covers from 10kV – 220kV. Cable end sealing caps, bushing insulating boots straight through or right angle and cold applied boots. Heat shrink is manufactured from Polyolefin, which is an excellent product for sealing and insulating cables, joints and cable sheath repairs continuous temperature range -55 deg C to 125 deg C
Eli-Flex rubber repair paste FR909/N60 is a quick, easy, fast , user friendly solution to conveyor belt repair and rubber lining. No special tooling or heating required. Pre weighed twin packs alleviate measuring issues, available in 150 g, 300 g and 500 g pack sizes. Benefits include high tear and impact resistance, excellent flexibility.
eli-glow photoluminescent pigment powder
Eli glow photoluminescent pigment powder are the latest advancement in eco lighting technology. Eli Glow pigments are self-illuminating (After a dose of light) and completely self-rejuvenating. The long lasting glow offers functional and decorative solutions. A wide range of applications ranging from roads and safety to art and decorative applications apply. The Pigments will recharge themselves an infinite number of times and last indefinitely. The range includes kidney shape pebbles ( small ) large flat pebbles, boulders, and rock fragments. Available in Green, Aqua Blue and Cobalt Blue. New exciting colors coming soon.
Eli-Flex Conveyor Belt Rubber repair
Low Voltage – Extra High Voltage Power Cable Accessories
Master Sheath Flexible Trailing Cable Joint
Self Amalgamating Insulation and Semi-Conductive Tapes
Low Voltage Resin Branch (T) Joints
Cold Shrink Terminations For 1 Core 7,2 24kV XLPE Cable
Sudkabel Cable Joints Termination Accessories 66kV-550kV
Sudkabel Plug in connectors (12-36kV)
Torque Shear Connectors for use on both Round and Sectoral Conductors
Heat Shrink Wrap-Around Repair Sleeves
Right Angle Bushing Insulating Boots
Medium High Voltage (12 36kV) XLPE PILC Transition Joints
Medium High Voltage Single Core Joint Kits (12 36kV)
Medium voltage cable Jointing (12 36kV)
Medium Voltage Single Core Terminations
Optically Clear Artwork & Casting Resin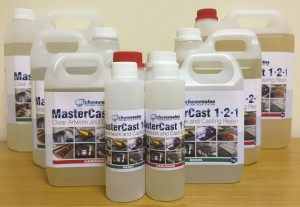 Mastercast 1-2-1 general purpose clear epoxy casting resin can be used to cover artworks, mold / cast statues, souvenirs, laminate tabletops. Why not try and encapsulate an item for eternity in a clear glossy varnish? Mastercast 1-2-1 clear epoxy resin can also be used to encase electronic components e.g pc boards, LED lights etc.
Easy to use, Mastercast clear epoxy resin cures at ambient temperature and is self leveling, can also be used as a doming resin.
This link provided is a demonstartion of how mastercast 1-2-1 clear epoxy resin is used to cover artwork, delivering vibrant and exciting colours to your creations  watch on YouTube
Optically stable and UV resistant ensures the product is clear and does not yellow.
Our new Resi Tint pigments for Mastercast clear epoxy resin can be added to create stunning visual colors and effects. The mixing ratio for this process is 20 percent by volume. Our Resi tint pigment series is available.