All the polymer clay tips and tricks I have accumulated over the years. Youll get a glimpse into the things the professionals know about that make working with polymer clay so much easier and more rewarding.I will be constantly adding to them so check back often. If you dont want to miss an update,like my Facebook pageto stay in the loop.
Reducing canes is an important skill for all polymer clayers to learn.In thiscane reduction tutorial, Ill be showing the correct procedure for reducing round, square, triangular and hexagonal polymer clay canes.
I find that a quick clean everyday is more than enough to keep my pasta machine in tip top condition. As long as Im diligent about doing it every evening, when I am finished working for the day, I dont have any trouble with clay build up on my blades.In this tutorial Ill show youhow to clean your polymer clay pasta machinewithout removing the blades or fenders. Its really simple and easy to do, and it only takes five minutes.
Dont you hate it when youve worked so hard to make a Skinner Blend, only to have it ripple in your pasta machine?In this video tutorial Ill show youhow to prevent your clay from rippling in your pasta machine, as well as, how to prevent pasta machine poop from getting onto your polymer clay.
Pasta machine width guides are great for keeping your Skinner Blend or polymer clay veneer to a specific maximum width, but they arent available for all makes of pasta machine. So what to do?In this polymer clay tutorial Ill demonstratehow to use your pasta machine without width guidesand still prevent your Skinner Blend or veneer from expanding to the width of your rollers.
In this polymer clay tutorial, Ill be showing you how to dome polymer clay beads using two different methods. The first and more common method is done by using a cutter. The other is with a template.Depending on your particular project, doming can add a new and interesting dimension to your work. Knowinghow to dome polymer clayis a simple, but useful polymer clay tip that is worth adding to your repertoire.
In this polymer clay tutorial Ill show you how to finish off your beads using a technique that I call the Jessama Smear.Ive shown this technique in other videos, but in this detailedJessama Smear Tutorial, Ill show you all the tips and tricks you need to get it right every time. It takes a bit of practice, so hang in there and youll soon have it mastered.
TheSammy Smudgeis another great technique for finishing off your polymer clay pendants.It gives a wonderful shiny finish, and reduces the need for sanding. It can be used as a stand alone technique, but using it over theJessama Smearwill yield the best results.
In this polymer clay tutorial Ill show you an indispensable little trick that prevents your mixed media polymer clay surface techniques from smudging or scratching off.It also allows you tosand and buff surface effects, such as alcohol inks, mica powders and other mixed media that you normally wouldnt be able to.
In this polymer clay tip tutorial Ill be showing you three different ways tosharpen your polymer clay blades.Ill also show you how to clean your blades between uses. It reduces residue and will make your cuts crisper.
In this video Ill show some of the manypolymer clay texturesthat are found lying around in most homes and gardens. From feathers to pasta, theyre all right there in front of you.Theyre a great way to add interest to your polymer clay designs, and unlike polymer clay texture sheets and stamps, they dont cost a cent.
Old clay can make your life a real misery no matter what brand you choose!Once youve figured out which polymer clay brand will best suit your needs, you can use the tips and tricks in this article tomake sure that the polyclay you buy is soft and fresh.
Baking polymer clay in cornstarch or baking soda protects the shape of your bead and prevents flat spots, stops your beads from rolling around, and, most importantly, helps prevent burning.In this article Ill talk about the ins and outs ofbaking polymer clay in cornstarch and baking sodaand things to look out for. Ill also show you a few alternatives that achieve the same results without as many hassles.
Soft polymer clay is almost impossible to work with. It sticks to everything, and everything sticks toit,andworst of all, it can gum up your pasta machine. Some brands are more likely to be the culprits than others, but even the firmest brands can turn sticky during the summer.In this article Ill show youa few tips to help firm up your soft polymer clay, and keep it workable, even through the hottest months of the year.
Hard clay has to be one of the most irritating things you come across when working with polymer clay. Thankfully there are many different things you can do to get it back on track.In this article Ill show youhow to soften polymer clayand bring some life back into it with a range of easy tips and tricks.
Do you have any great polymer clay tips to share? Let me know in the comments below.This page will be constantly growing. If you would like to keep up to date with all the tips I add as I add them, pleaselike my Facebook page. And dont forget to like and share with your friends.
Purple and Blue Watercolor and Silver Leaf Beads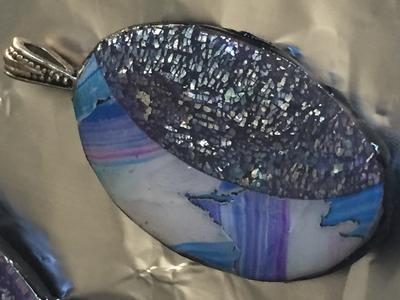 What brand of clay did you use? Premo What colors did you use? If you mixed them yourself you can include a color recipe here if you like. White,
What colors did you use? If you mixed them yourself you can include a color recipe here if you like. Black and white. What products did you use?
In this tutorial Ill be showing you how to make a polymer clay silkscreen veneer using alcohol inks, Swellegant and Helen Breils Pills and Coffee silkscreen.
What brand of clay did you use? Premo What products did you use? e.g. Lisa Pavelka Crackle Texture Stamp, or Pearlex Antique Copper Mica Powder.
Helen Breils polymer clay silkscreens are admittedly some of my favorite. In this Helen Breil silkscreen review Ill be highlighting why, in my opinion, they are among the best on the market.
In this tutorial well be making an easy but stunning polymer clay collar necklace. Ill show you tips and tricks to get the shape just right, how to bake it so that it sits beautifully on the necklin
In this polymer clay project, Ill show you how to make a textured polymer clay pendant, with small bezels that we will fill with Pebeo paints and resin.