A Time for Change Plowing the Road
RYOMagazine is heading into its 18th year of publication. We are proud of the longevity of this project (and it really started out to be merely a project, but very soon morphed into something far more comprehensive and lasting). Because of the ever increasing complications of the subject of tobacco, the time has come for a summation of where we have been and where we are going, and . . . where each of you have been and where you are likely to find yourself as well. And then the sky was falling.
efore we begin however you will notice some changes. And I would like to first introduce a few new participants who will be joining us shortly. These are several fine companies who bring added and much needed diversity to the world of RYO. Remember please while this magazine has focused a great deal on tobacco and this cover page has been a very long excursion into the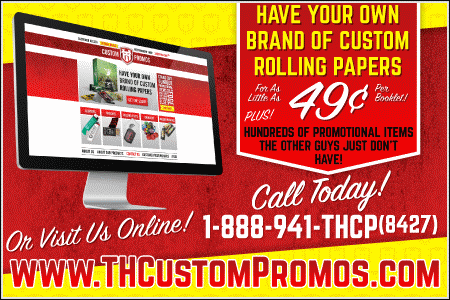 politics, science, and in general, the controversy from everything regarding smoking and health to the greedy unprincipled opponents of this extremely clean pastime (at least it started out that way more on that in a moment). Regardless, over the past 16 years we have had the pleasure of working with some of the finest folks who we find as dedicated to quality and sensible consumption as we ourselves have proposed and followed for so many years and the following companies, some somewhat different in theirproduct lines, all demonstrate the evolution we have continued to see in all aspects of this hobby. CMC (Custom Made Cigarettes) needs as much diversity as possible and there are many fields that will intertwine quite well with it. And most especially with the advent of relaxation of Cannabis laws, there is going to be a lot of things to consider and speak of.
It has been a great 16 years, filled with high points and even a few pretty low ones, not unlike life itself. However, the most important single thing to emphasize, over all of the bitter sweetness,especially over taxation, regulaton, and the introduction of so many inferior products as well as some down right stupid strategies, is that RYO has survived and even more today than before, the priciples of RYO will remain what each of us makes of it. Yes it will be more expensive but that will not deter the connoisseur or even the hobbyist who enjoys great tobacco and has the sense to regulate their usage to fit their own and unique personal budgets. Moderation will continue to be the true bell-weather of RYO, ringing loudest to those who have experienced the best and are unwilling to be satisfied with garbage. It is only fitting that, while temporarily, the number of people enjoying RYO will decrease somewhat, ultimately it is our belief that eventually everyone who enjoys a few good smokes will find their way to this industry. The pipe tobacco versus rolling tobacco issue will be resolved and likely will be resolved in favor of tax equalization and higher taxes overall.However as to true value, making ones own cigarettes, especially out of the finest of materials will always be the choice of those who chose to partake in tobacco use with the respect that such an endeavor requires and deserves. And most importantly, it will always remain, THE fiscally wisest choice for those that have the vision to see it.
One of the most satisfying (perhaps the most satisfying) aspects of producing this magazine over this many years has been the power shown by so many to innovate. And today, even with the less than satisfying though at best, temporary conversion of RYO Tobacco to Pipe tobacco, in all other areas of this industry, creativity and innovation has excelled. Well return to the subject of RYO vesus Pipe tobacco abit later in this cover article BUT it should be known from the start that this publication will from this time forward, differ from all previous issues. No longer will all the political and regulatory outrages and diversions be covered in this Cover page. From now on the cover of RYO Magazine will focus exclusively on the positive and at times negative aspects of the RYO Industry that are internally generated by the industry itself. We will leave the rest of the worlds attitudes about RYO to the Editorial Section. Here you will find best of the best as well as those things that this industry MUST improve.
For as long as Man has walked the Earth, RYO has existed. It has taken many forms but simply, it implies making things for yourself with materials YOU choose. The acronym RYO is applied to many activities of such personal nature from various artistic endeavors, the building many things and to even making ones own ammunition. And tobacco has been around nearly as long as Man has walked this Earth. Despite much flawed historical statements, tobacco has grown wild for eons. It is a naturally occurring plant of the nightshade genus. Sure its growing has been improved upon more recently (hundreds of years ago) but it has existed and been used by humans far longer.
very aspect of this industry is participating, creating injectors of unrivaled quality (Powermatics from Zico USA as a prime example). And not only does ZICO (pronounced zeeco) make the absolute finest Manual injector (the Powermatic1), but they also make the finest, by far, electric injector (the Powermatic 2) ever seen. And never ceasing to amaze, they came up last year with a mini version (shown above). Almost exactly the same dimensions of the previous best in the small injector category (Simrons EXP1000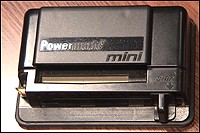 which has now left the maket for good) the lastest Powermatic MINI is as good as any of the larger more expensive injectors, with the exception of both other larger Powermatics.

This little thing not only makes consistently perfect sticks, it is much easier to use than the EXP 1000. It also makes 100 mm sticks without hesitation and is extremely robust just like its larger siblings, and sells for around $20 or less. Again it makes PERFECT sticks, filter tight and fully packed. It comes with all of the usual superb tools except the bore bristle brush which is not needed because of the smaller footprint, but retains the soft, high quality brush and poking tool in case of jams. I can use this small machine interchangeably with either of the other two Powermatics and I do so without hesistation. These machine come in white (my favorite) and black (my favorite for cars). We will do a short video soon but I assure you it is really easy to use and even its smallness has been addressed by larger operating surfaces without changing it overall size.
Zico has other product in production like the Powermatic 150, a bit smaller take on the Powermatic 1 (but every bit as superb) and lastly for now the brand new Powermatic 3, which is the most exeptional injector I have ever seen (or even imaged). More on this neo-magical marvel, with its built-in hopper (that holds 32 cigarettes worth of tobacco the most powerful integral mechanism ever imagined and on the drawing table, even more to amaze. For instance they make the Powermatic S, absolutely the finest consumer grade tobacco cutter, for the emerging Whole Leaf sector which we will talk about soon, And the only reason we consider this cutter/shredder consumer grade is to emphasize its intended and regulated LEGAL use. That is by a consumer , not any retailer who may wish to cut up tobacco for their customers. That is ILLEGAL, will be prosecuted by the Feds, and in general is not necessary anyway as the Powermatic S is not so expensive considering you are buying Whole Leaf tobacco without (so far) the ridiculous Federal Excise Tax of $24.78 per pound found on the best RYO tobacco. It runs around $270 but remember you are saving 24.78 for every pound you process. And the word PROCESS is key here as any retailer who cuts or otherwise alters whole tobacco leaf tobacco, is deemed a manufacturer and the fines for doing so without a license are enormous.
We have one of the first Powermatic Ss and have had if for 3 years. It still works perfectly although during these last 3 years, there have been many improvements. A video will eventually be forthcoming as well. More magic fromZICO!You can go to Zicos website to see any of these marvels atand there is more to come still. They even have a line of excellent tubes.
Tubes that are both incredibly beautiful, innovative and pristine (VeraCruz and Beretta from StVincent USA/ Silverfoil, ZigZag and others), and of course, tobacco blenders, some of whom never produced floor sweepings as blends, staying true to their passion for quality. Every one of those true believers will enjoy the re-emergence of RYO as CMC. Whatever the final acronym, it will not only be profitable but a source of pride driven by passion rather than greed for all who participate. Manufacturers who both understand and actually use their products are finally increasing in numbers. As a reminder, more than 90% of the exhibtors at traded shows who smoked as of 2004, and even those specifically in the RYO/CMC/MYO business, smoked packaged cigarettes. Why? Well it surely wasnt a case of quality as truly great tobacco (of which there are admittedly fewer brands today) but not in 2004 were plentiful and even the realatively primitive injectors of that era made great cigarettes. No, the reason was that many of even most of the purveyors of RYO/CMC/MYO were either too lazy to make their own (a 5 minute a pack exercise) or they never had a taste for good tobacco anyway and most likely were in the sector just for the money, which explains the proliferation of crap tobacco that emerged from that time.

This new scenario is not just wishful thinking. It can be likened to the American car industry when manufacturers nearly destroyed their reputations and customer base when trying to compete price-wise with the much lower cost imports from Japan in the 70s. It took more than three decades for these manufacturers to regain their once unrivaled dominance as to quality and reliability and they still have ground to make up. And more recently the Japanese have experienced a similar situation in competition with South Korean auto makers. Its an old story and the outcome is always the same.Cheap does not equal Value!
nd even now, with Zicos arsenal of top of the line injectors, they are not yet done. (they never may be, as Fan Bao, the owner of, must never sleep and likewise never seems to be done designing).After a couple of years of prototypes he has invented yet another injector that rivals any of his previous entres (of which there are no rivals already) and it is called the. Now when Fan told me he had yet another injector design, my first question was why. He has, for all intents and purposes, dominated the injector market as far as innovation and quality. I mean, really, does anyone need another alternative to either theinjectors to date and probably into the far future as well), and thesmall footprint injector ever made, even rivaling and surpassing the great EXP 1000, the previous best in that category). So what in the hell was he thinking when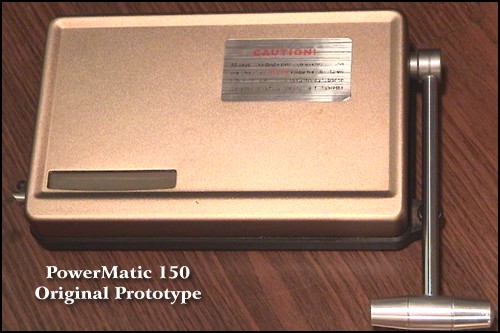 he came to invent yet another injector. Well Ill tell you. He devised an ingenious transport mechanism that is more like an autos automatic transmisssion and is so smooth and powerfull that one can only try it to believe it. And here it is. After a bunch of time designing and perfecting this machine we are pleased to inrtroduce the. It made its debut in Europe but it is here now (at Amazon like nearly everything else). First you can see the orginal prototype which Fan sent to me over two years ago. It was dynamite but needed a few tweaks, which of course I suggested. In due course the final version showed up which I (as usual) put through its paces for several months. Frankly I could not believe Fan had once again built somethingthan very special. Most designers and inventors are lucky if they get even one thing perfect and I was somewhat skeptical of this new machine. I should have known better.
ell that is history and as of now I am completely blown away by the prowess of the new. It is as smooth as greased lightening and every bit as powerful as its slightly larger brother, the. The proprietary transmission is one of its secrets. Its simplicity is amazing. I cannot imagine ever breaking this thing, and while it is possible (barely) to jam it with great big hunks of poorly conditioned tobacco. It is so simple to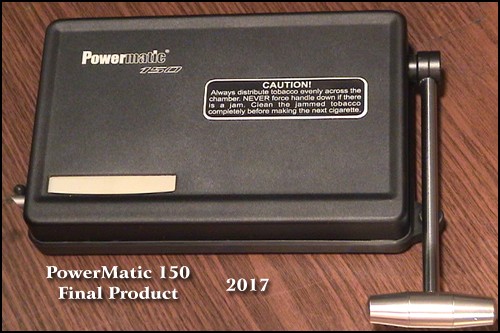 clear it and to understand its workings, that I seriously doubt anyone will ever jam it twice. It is nearly the equal to my all time favorite, the magnificient electric. And here it is, the final version a thing of beauty! Ive prepared some videos on its use, highlighting some of its design parameters which I will post tomorrow. Let no one doubt the incredible utility of this new machine. It is elegance defined, and in my opinion, as easy to use than the stellar. More will be available tomorrow, so sleep well and get ready for another detailed look at yet another revolution from the minds of
The rebirth of the RYO industry will take some time but not nearly so long as the auto industry experienced as all the components and talent and the incredible abilities of American tobacco farmers remain in place. The only real change necessary will be the commitment and marketing savvy to accept the new concept of, once again,Qualitybeing absolutely dominant overCost. No compromise in Quality need ever be the operating force in any or all marketing and production. Custom Made Cigarettes are the future and to live up to that name there is no room for bottom feeders to any longer pollute the product category. May sound harsh, but it makes perfect long term business sense and satisfies as well the aesthetics of any upscale product for the consumer. Though they may be building Ferraris at the price of Fiats, Cadillacs at the price of Chevys, these products will perform and be heralded as the finest in the world.
America has been a trend setter in many categories for a long time and the time is long overdue for our entire RYO Industry to return to that status. When people try fine tobacco in fine tubes (especially with the longer filter elements produced by VeraCruz, Beretta, Gizeh and others) and with the much finer and elegant aesthetics associated with each, these consumers will
know they are getting the best and appreciate each precious stick and the rest of the world will once again take notice. Much comparative testing has been done and the conversion rate over the most popular packaged cigarettes and cheaper forms of loose tobacco when compared with the finest quality tobaccos and tubes, when given a fair chance, nears 100%. Getting the best is the true meaning and measure of value, for rich and poor alike. Consumption can be easily adjusted to fit each case. Consumers are far more intelligent than many marketers give them credit for.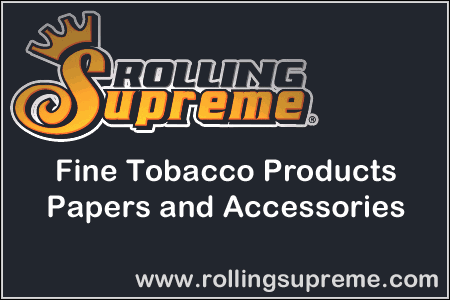 olling Supreme is acutally one of HBIs online outlets. Both there and in their catalogs one can find more products than almost any distributor carries. HBI has grown huge and the quality of the products they represent and in many/even most cases, actually manufacture, is equally impressive. For instance, even though they dont yet manufacture everything they carry, they carry practically everything of quality. For instance the deservedly well known name of ZigZag, especially for papers and other things can be found at HBI. Hundred of brands of rolling papers may seen like a lot but many people have widely varying tastes.
tarting with the classic Orange packaged ZigZag 225, this slow burning paper is among the worlds favorites and found in nearly every convenience store or supermarket inn the US. While there are quite a number of traditional rolling papers and new ones as well that match the quality of the Zig-ZAG brand, there are mighty few thatthe quality of these fine papers AND that includes the whole line of Zig-Zags, as well as everything that HBI makes and sells which are likewise
stellar. More on that in the Rolling paper Section of this issue, but for a bit of a tease, the following are the most popular of the Zig-Zag lineup.
For instance , the fairly newly packaged King Sized shown at right, is a large paper that reflects its elegance in its new wrapper, I love this paper as it easily allows for larger rolls while maintaining both the tensile strength and yet sheerness ZigZags are known for. A longer and wider paper has many advantages, depending of course on what you are rolling and the quantity which you wish to consume, as well as if you have large hands.
The CutCorner shown below as well as the ultra thin 1&1/2 Ultra Thin each have their own fans, with the wider 1&1/2 easier to roll a larger cut tobacco and the Cut Corner which are simply easier to roll period. Both of these papers are readily available at nost convenience stores , tobacco outlets and gas stations. The cut corner style has been around a long time but with the increasingly now legal smoking materials now available like Cannabis, people may enjoy rolling a thinner stick and the ease at which the corner tuck without as much twisting to make a
thin joint. After all Cannabis aint cheap!
And finally, one of the papers I havve been unable to acquire but are out there is the ZigZag UltraThin. This highly translucent paper practically disappears with almost no ashand very little if any added flavor to your smoke.
And of course there are many other fine ap
These reviews are solely for the convenience of people of legal age who already smoke, are trying to cut down on smoking, wish to spend less money on their smoking, want to roll their own cigarettes from high quality tobacco, and, in general, wish to have a far more satisfying, and economical smoking experience when compared with smoking pre-manufactured cigarettes. We, in no way, encourage people to smoke. Further, we subscribe to a sane, more logical approach to smoking that involves common sense as to quantity coupled with a strong desire to manage the habit until it becomes an occasional, freely chosen, diversion, that can be fully enjoyed with minimal health risks. Finally, we strongly encourage those who do smoke to take it outdoors, or to appropriate environments where tobacco can be enjoyed away from those who do not smoke, most especially children. We do not sell tobacco or related products from this site; We distribute information about our perceptions of the quality of what is available and where it can be obtained. If you are under 18, it is illegal to buy tobacco and you should immediately exit this site. If you do not smoke, it would seem illogical to start.

RYO Magazineis a trademark of The Andromedan Design Company,
and its contents are protected under all applicable copyright laws.
Your email address will not be published.Required fields are marked*