Disclosure: This post may contain affiliate links. This means, we may receive a small commission if you choose to purchase something from a link we post (including links to because we are a participant in the Amazon Services LLC Associates Program. Dont worry, it wont cost you anything. This small percentage just helps us keep the power on and the Diet Coke stocked. We appreciate your support!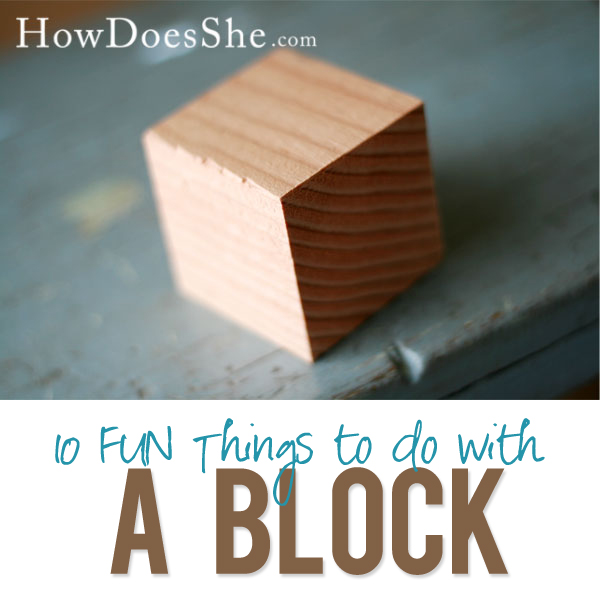 We posted these last year when we had a few followers (thanks to our momsthey were our first followers).  We wanted to make sure you saw the fun things you can do with a simple block.
So on with 10 things to do with a block!
A simple blockwho knew?  10 things to do with a block.  We are using a 22 block.  We cut down a 44 post to an exact 22 post.  If you have access to a table saw set your width to 2 inches and cut one line and then flip your post to and cut another line.  Your 22 should be cut out and exact! Then you will need to use a chop saw and cut them into 2 inch chunks.  Making your 22 blockor just buy them from the craft store!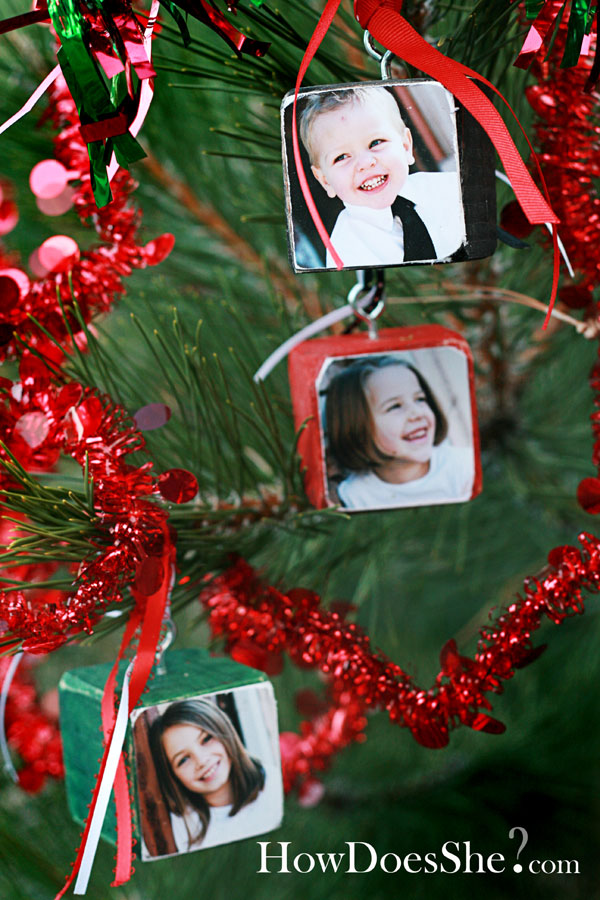 1. Paint your block (I just used craft paint).
2.  Mod Podge a picture on one of the sides.
3.  Sand any leftover picture paper off.
4.  Screw in aneyein the top.
1.  Mod podge 5 sides of your block with scrap book paper. (For 10 steps for perfectmod podging CLICK HERE)
2.  Mod Podge a picture to the 6th side.
3.  Sand any leftover paper off.  If you want to stain the edges to give it a shabby chic lookthis would be the time:)
4.  If you wanted to stain the edges now would be the time.  It will give it a shabby chic look.  Keep it plain for a more sleek look.
5. Make your Christmas tree a true  family tree
We wanted to decorate our Christmas tree with pictures of our family and put a big fat red ribbon around the entire tree.  A friend is going to do a BSU themed tree and mod podge BSU paper on the blocks and then take pics of her kids in BSU uniformsgo Amber!  We want to see it when its done!!!
How cute would this be on a fire place mantel or on top of a computer at work!?!
2.  Drill a hole in the top and stick a piece of wire in it! I found the wire at Lowes.  .
3.  Cut out of vinyl the name of the featured and put on one side of block.  You can use yourcraft cutter for this project!
1.  You think wed let this pass with out making aneighbor christmas gift!!!
2.  Mod Podge all sides with cute paper
3.  Put some holiday vinyl on and wrap it like candy(no calories)!
2.  Dont let your toddler play with the blocksthe first one saidNOEL.
3.  Display on a shelf or in front of the Christmas tree!
2.  Add the numbers: 1,2,6or9,0,7,8 to the first block
3. Add the numbers: 1,4,3,5,2,0 to the second block
2. Put the ABC vinyl on them (easier)I used the Narkism font 1.81.8 in dark brown.
You can cut small vinyl letters and sayings with your Silhouetteor craft cutter.
If you are spelling out a name, make sure to put the letters of the name on the blocks first you dont want to put the L and U on the same block or you cant spell out the name.
How fun would this be to give at a shower or to nieces and nephews for birthdays!
1.Mod Podgethe blocks, add the picture (just like in the ornaments 1)
2. Drill a hole all the way through the blocks.
4. The top block will have both wires sticking out. Curl them with wire cutters.
5. Add vinyl Family to it (Black Boys on Mopeds Font 1.61.6)
1. Wrap the blocks and stick them around the house for decoration.
2. -OR- put an eyelet in the top and hang them from the treejust like 1 (Click Here to see it)
do you see Missy in the photograph?:)
1. Take 9 blocks and put them close together.Mod Podgea 66 picture on them. Take an exact-o knife and cut out the individual blocks. OR cut the 66 picture into 22 squares and Mod Podge them on after you cut them.
2. Flip the blocks to a new side and do it again.
3.Mod Podgeall 6 sides with different pictures.
4. Youll have created 6 puzzles with your favorite pictures!
5. Give as a gift to familyya rightthis one is a keeper!!!
Were linking up tothesegreat parties!
Alison is one of the 3 founders of She is the mama of 4 rockin kids who love PB and Js. She has one fantastic husband who is the love of her life and loves long walks on the beach!
I am SOOO amazed at the MAGNIFICENT ideas I get on this site. THANKS SO MUCH!
alison is amazing. seriously. how does she think of things to do with a block?!
I am just curious, where you put the number 9. I dont see it listed for either block.
The number nine is the number six upside down. Thanks for clearifying that!
Those are cute ideasand ten of themwow!
i am SO gonna make these to give away! thinking of sticking christmas giftpaper on the non-photo side and sandpapering it to give it a decoupage kinda look. thanks so much for sharing!
So cute. I love those; what a great holiday decoration idea!!
Love the blocks! Way stinking cute:) Im makeing sure to spread the word of how awesome this site is! Thanks, you girls are the BEST!
What a great post I cant wait to see 7-10! Wonderful ideas.
love all your blocks! Thanks for sharing all the ideas!
I think Im going to try 3. That seems simple enough for me to do =P
Great ideas, thanks so much for posting them!
I love these blocks they are adorable. Ive put a link to these on my blog. Thanks for sharing x
love your site. thank you. i just purchased me a crickut on a black friday sale. Im so excited!!!! anyway, i was wondering where you buy your vinyl for it?
I know Roberts has vinyl.Click here and it will take you to a post and at the bottom there is a code for 25% off.
What darling ideas!! Love them all thanks for sharing!
I just made the photo block ornaments. I love them! I made enough to keep for our tree & then to give them the grandparents for Christmas. I plan on making a new one each year. Thanks for the awesome idea!!!
Question do you use real photopaper for the pictures or print them off on cardstock?
I use real photos! Just printed them off at Costco. 🙂
Wow these are fabulous. So glad I found you, just became a follower 🙂
Thanks so much for such a great idea!!! I made a little family set for my son and I love them! And so does he, but for now, I might just a little bit more. Here they are if interested. /2010/01/family-blocks.html
Love these ideas Linking to this post today on .
I have also been having fun with wood blocks. Here are some sweet ones I made for Valentines Day: /2010/01/l-o-v-e-blocks-x-o-x-o.html Have a great day!
I loved this ideamade them a few weeks ago and have finally posted to my blog! So cute and super simple!!!
give me a idea to do block to make design?
Geez I love this site!!! Thanks so much for all the super fun ideas! I cant wait to get started. Im planning to do a spin on these blocks for wedding reception centerpieces. I was wondering, do you stain the blocks after you modge podge or before?
oh! just found the answer in idea 2.
cute everything!! ~ I just have to say that the Noel block still says it No L! 🙂
AWESOME ideas! WOW, I think I found a new blog to follow!
Soi LOVE your site!!! Like LOVE it!!!! I have never been very crafty because i cant really sew and i have not so pretty handwriting and yall have now made me a crafter and i am so excited! I actually just got a Cricut to do all my vinyl! Im so excited! Just made my first blocks. I was wondering, as a very new owner of a cricut, is there a cartridge that you can custom what word you want and have the word actually connect, not just cut individual letters? Thanks!!!
Congrats on getting a craft cutter! We are big fans of vinyl lettering. The Circut is a awesome machine, but I just dont have one. I have used one and think they are awesome, but I have the Silhouette. They cut the same, they just run on different programs, so I hate to say this, but I dont know how to do that on the Cricut. I know there are a lot of U-Tube videos on the Cricut. Someone is bound to go over that.
If you are asking because you want to keep the letters all in a straight lineOne thing you can do though is after you cut itput blue painters tape over the letters and rub over it. Then remove the vinyl backing. The letters will be stuck to the tape. Move that to your craft and put it on. Rub over the tape and the letters will stick. Pull the painters tape off slowly and the letters will stick to the craft and will be in a perfect line.
Let me know if that helps! I hope I didnt confuse you. I am so happy you got a craft cutter! It helps to make crafts professionalthats why I have one!!!
.-= cimlys last blog ..Schools Out!=-.
I LOVE all the block fun, but am having a hard time finding them in bulk. I see them at Michaels for $1 each, but never sales. Any suggestions online? Kristen in Texas
These ideas are SOOOO adorable. I especially love number 6.
Love the ideas! I want to do 10 for Christmas. Just wondering how you got a 66 picture. Did you cut a larger one? Thanks.
I was thinking about these blocks and a great way to get a lot of these for a great price is to go shop at Home Depot or Lowes get a 44 post (they usually run about $9-10) for 8 length. This would make 22-24 blocks. You can even cut them in the cut center so you dont have to do it at home. So that would make each block about $0.45! Pretty good!!!
The thing you need to remember about lumber is that a 44 is actually a bit smaller (3 3/4 or 3 7/8 something like that) so that you wouldnt get TRUE 22 blocks when cutting it down however continuing with your thought an 8 foot long 44 is 96 if you cut that down into 2 inch segments youd have 48 2x4x4 blocks and then cut those into quarters (making approximate 22 blocks) you would have have roughly 188 22 blocks you would lose a few block to sawdust as you cut things down. Even if you spent $20 for an unpressure treated 44 that would make it around 11 cents per block! Oh and for ease I usually have the lumber center cut it down to 2 foot long piece so that there is less bulk for me to have to manuever on the table saw.
I finished some puzzles today. I love them! I cant wait for my boys to open them at Christmas. they are going to love seeing their pictures on a puzzle. Thanks for the great ideas. 🙂
My daughter made one of those puzzles for me a few years ago and I treasure it! She changed all the photos to sepia first which turned out really nice. Theyre also a great idea for wedding gifts. It would be cute to wrap each block of the puzzle up like little gifts!
Love all the ideas! I want to do 3 to display holiday cards with Joy, Noel, and Peace, on the blocks. Question what gauge wire do you suggest? I used floral wire for something similar, but found it a little too flimsy.
I cant get the link to work for the 10 perfect steps for mod podging HELP!
I made some really awesome photoblocks as gifts for all the grandparents. They came out fantastic but I was so disappointed to find out yesterday that some of the photos are bubbling. Anyone have any idea about what the problem could be?
I made 6 photo puzzles for Christmas this year! They turned out great! Thanks so much for that one! Check out the one for my kiddos here:
i did 10 (puzzle block) about 5 yrs ago as a gift for my SIL, it was a huge hit!!!
Great ideas! Check out the block project I did for my little boy at Whispers of Joy
How would you configure the numbers with three blocks to do a 100 countdown for the 100 days of school?
These ideas are sooo cute! I love your sitekeep up the good work! 🙂
Love your puzzle block idea with family pictures. Cant wait to start working on our own set. Thank you for the inspiration.
Wonderful ideas, every single onea blog keeper! My class could do some of these for holiday gifts for parents! Thanks!
I am a dingbat. I want to make the photo puzzles. But, I cant figure out how to print my photos 66. Any tips?
My local home improvement stores (Lowes or Home Depot) do not carry untreated wood larger than 26!! Bummer!! Anyone have success in other places?
I love this craft idea and the puzzle picture is so sweet for a gift. Thank you for sharing.
So many great ideas! Cant wait to try some!
LOVE LOVE LOVE all of these ideas!! So adorable and creative! I could spend hours checking out all of the wonderful craft ideas on your site!
awsome ,I love your ideas, I own a wood working shop and have lots of scraps. thanks
Cute ideas. Thanks for sharing. I have an almost 5 year old grandson and am always looking for things we can do together
I made idea 10 for my mom for Mothers Day and she loved it. It was such a fun and easy project, I think I might have to make one for myself now! 🙂
7 I sanded mine just a little and it turns out white, but I didnt go deep in with the sanding and I really like them. Turned out great. Thanks again for sharing your ideas and I look forward to the newsltr.
Hi, I am looking for some recipes I found, but now I cant find them. The link is /2012/05/[emailprotected], however the site says there is no page. Your blog name came up, so I thought , maybe you would know how to get there!! Thank-you for any help!!
Hi just wondering how do you get a 66 pic? I print pics at walmart and you cant get a 66 photoHELP! Thanks,I love this idea and cant wait to get started!
Just order a larger picture (810) and cut it down. 🙂
I loved this ideamade them a few weeks ago and have finally posted to my blog! So cute and super simple!!!
Did anyone else have an issue with the pictures bubbling up after a week or so? I just did some picture blocks for Christmas gifts, but some of the pictures have started to bubble. Am I doing something wrong?
I want to make the photo puzzle blocks but Costco does not print pictures in 66 size, just wondering what size did you order?
I love all the ideas for these blocks. Can be used for every holiday. Really love girl things.
wowza ! I am so going to go get some wood blocks and do these things with my boys, that I am nanny to (they are 3 and 4/5) and I want to do lots of crafts and educational things with them . these are great ideas to have in my arsenal of keep them busy times in my bag of tricks I will be bringing with me.
Love these ideas! I am having my dad cut some blocks for lawn yahtzeewe all love regular yahtzee these would be a great addition to our camping games!!!
SO many amazing ideas with one simple item! Truly awesome! Thank you for your inspiration and wonderful creativity!
When you mod podge the picture, do you mod podge over it with the foam brush, or do you put a little under neath the picture, then place It on the block? Ive never used mod podge. so Im not sure of all the tricks and what not haha.
what kind of picture paper do you use for the blocks?
Un discours de mariage rdig en bon français, foncez!
Your email address will not be published.Required fields are marked*
Save my name, email, and website in this browser for the next time I comment.
Although Alison, Missy & Shelley started HowDoesShe in 2009, the real backbone of HowDoesShe is its many talented female writers and contributors from all over the United States and Canada, sharing both personal and professional articles and tutorials on how to be amazing women.Read more…
Copyright © 2018 All Rights Reserved ·Contact
Sign up for our newsletter and receive our
Or click outside of this box to close this popup 🙂